Automobile
Section
Introduction of distribution measurement system of seat surface pressure
 As a specialized manufacture of the development and production of seats, we carefully studied ergonomics and finally introduced a distribution measurement system of seat surface pressure, aiming to improve shape and seating posture and to make comfortable seats. It can be measured and displayed as 2D or 3D of seat pressure distributions by real-time processing and the thickness of the sensor is extremely fine such as 0.1mm that would never cause a margin of error of pressure.
Therefore, we can determine and manage the design and the evaluation of seat quantitatively.
We are aiming for the development of "comfortable seating", by making research from every aspect and method. In particular, as one of major factors to determine comfortable seating, we are making our best efforts in order to measure accurately the body pressure distribution.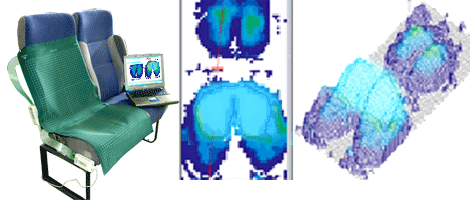 By using our unique measurement system, we measure and study a variety of body pressure distribution of each seat under various conditions in order to aim for comfortable seating which relieve the fatigue from many hours seating. Our collecting and accumulating various data will be reflected in our further product development. There is no limit for us to aim for further more comfortable seat for the next generations.
 We promise to meet your expectation.