TOPICS
● Mar.16, 2018
Delivery of our produced seat to Shikoku Kinsen liner "Asahi"
"Asahi" runs 7 round trips between Uno-Miyaura, 2 round trip between Miyaura-Takamatsu. This is the only service which goes to Takamatsu.
About the armrest, we used wood material and inside the ship has warm atmosphere. "Asahi" has been starting its service from Friday March 16th.
We accomplish to reduce the weight of the boarding seat by 10.90kg which number exceeded the previous plan.
Previously: 46.20kg→The Result:35.30kg Goal: -9.24kg→Actual Result -10.90kg
Asahi
Guest Seats
Guest Seats. It has very bright atmosphere
Sofa Seat
● Nov.15, 2017
We were in charge of introducing our interior goods to "TRAIN SUITE SHIKISHIMA"
We installed our designed interior products to "TRAIN SUITE SHIKISHMA" which started its service from May 1st 2017. In honor of our effort, we inform the news of holding the award ceremony and received the shield as memento by East Japan Railway Company.
From the left of the picture,
East Japan Railway Company
Railway business headquarters department of transport vehicle
Senior manager and vehicle technical center chief
Hideyuki Terui
East Japan Railway Company
Railway business headquarters department of transport vehicle
Chairman of vehicle technical center Business reform group
Koki Takagi
Awarding ceremony at out head office factory
Company president Mr. Kaneko receiving the shield from senior manager Mr. Terui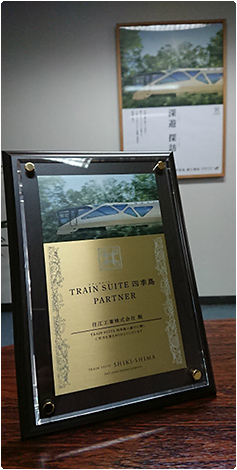 "TRAI SUITE Shikishima" was created as flagship train to fulfill its duty as a bridge for restoration of Great East Japan earthquake.
"TRAIN SUITE Shikishima" provides you the special and extraordinary experiences that can only be enjoyed in this train. The concept of its trip is "Shinyu Tanbo" wishing the passengers to feel happy about discovering something they had never known through experiencing new things with transition of four seasons.
If you have any chance, please join the memorable trip
Thanks to Mr. Terui and Mr. Takagi for coming all the way.
The shield. Token of the appreciation
● May 29, 2017
Suminoe Industries Co.,LTD action plan
We formulate the following action plans to provide good working environment for all of the employees to be able to sustain the work and childcare. This plan is aiming all of our employees to perform their full potential.
Plan period
5 years in total: from April 1st, 2017 to March 31st, 2022
Content
Maternity leave, childcare leave, parental benefit, exemption of the social insurance (health insurance and employee pension) during the maternity leave and childcare leave, extension of the childcare leave in case that the child cannot enter the preschool, sharing information about the working style (reduced working hours, exemption of overtime work) after returning from the leave.
Measures
April, 2017~ Explain the childcare leave system in new hire training
April,2017~ Demonstrate a training for administrative post
● May 17, 2017
Received appreciation certificate at general meeting of Showa association
On May 17th, 2017, we received a certificate of appreciation at general meeting held by Showa association (at Oiso prince hotel). At this time, our contribution to early adoption of cost reduction proposition at W41 C-1 activity was highly evaluated and awarded.
The letter of appreciation presented by president of Nissan Shatai Co.,Ltd, Mr. Kimura.
Rewarded companies with president Kimura, Nissan Shatai Co.,Ltd as a central figure.
The letter of appreciation and the crystal as supplementary prize
● Mar.24, 2017
Delivery of guest seats to ferry Shodoshima Maru
We installed our produced seat to the ferry Shodoshima Maru cruising between Takamatsu and Shodoshima. We used wooden material for the armrests and the seats are designed bright and warm.
A ferry Shodoshima Maru
Guest seat
The overall guest seat. Very warm atmosphere
● Mar.15, 2017
Installation of the specialized seat for Hakone Tozan Railway
Hakone Tozan Cable Car 3000 series "Allegra"
We used redish fabric for the seat which matches to the color of the train body. For the armrest, plywood material is used in order to bring out the comforting atmosphere.
Redish designed seat and plywood material used for the armrest
● Nov.25, 2016
The completion of "Kyushu second factory"
On November 25th, the second factory that was under the construction at Kyushu factory has completely handed over.
The completed second factory
The left side is the new facility and the right side is the previous factory
The whole picture of second factory 1
The whole picture of second factory 2
First floor
Second floor
Kyushu second factory; Scale of extension work
● Oct.15, 2016
We introduced a new pipe bender machine to the head office factory (Kyoto)
To start in-house manufacturing of bending square pipe and round pipe newly, this model is upgraded compared to the previous one.
The illustration of bended products
Product of OPTON CNC axle pipe bender ECO-ST-T-35 series capability scale
● Nov.17, 2015
Business information magazine "Creative Kyoto M&T": supporting hardworking companies published an article about Suminoe industry.
The article about our company appeared on the business magazine "Creative Kyoto M&T": supporting hardworking company on November issue "Kyo no Waza" series Technology of Kyoto.
※ For the further detail, please refer the PDF file.
● Jun.22, 2015
Transfer of Shonan factory~ starting factory operation
From Monday June 22nd, 2015, Shonan factory has started its operation at new place. The address of new factory is 1-7-16 Tamura, Hiratsuka, Kanagawa
※ For the detail, please refer the company information of this website Shonan factory or check out the overview PDF from here.
The panorama of the new factory and 1F workshop
2F parts storehouse
Office and conference room
Cafeteria
● May 20, 2015
Received an appreciation award at Showa association's general meeting
On Wednesday May 20th, 2015, we received an appreciation award at general meeting held by Showa association (at Oiso prince hotel). This time, our contribution of developing child car guideline was highly evaluated and rewarded.
Rewarded companies with Mr. Watanabe: the president of Nissan Shatai Co.,Ltd
Received an appreciation award from the president of Nissan Shatai Co.,Ltd, Mr Watanabe
An appreciation certificate and a crystal as supplemental prize
● May 01, 2015
Delivered guest seat to a ferry "Naoshima" operated by Shikoku Kisen
From Friday May 1st, 2015, we delivered our specialized seat to "Naoshima": a ferry operated by Shikoku Kisen Co., Ltd runs between Uno to Naoshima (Miyanoura) and Takamatsu to Naoshima (Miyanoura).
This ferry is placed with our newly designed wooden seat which utilize natural sense. (delivered all the guest seats for 292 people)
New ferry "Naoshima" and overview of the guest seats
● Feb.18, 2015
Rewarded for "The 2015 year's best technology award of Kyoto's SME"
The awarding ceremony of the 2015's best technology award of Kyoto's SME was held at "Kyoto business exchange fair 2015" on Wednesday, February 18th and our company was rewarded.
The name of rewarded technology and product was the railway vehicle seat made by aluminum die casting. The main structural materials of the railway vehicle seat, especially the materials for movable seat that enables the backrest to move back and forth in the direction of travel, require strengths and durability. For the introduction of aluminum die casting, we designed and developed highly strengthened and none damaged materials and we realized reducing the weight of railway vehicle and the cost down by reducing processing hour significantly.
Aluminum die casting has high material precision which doesn't require after process or minor adjustment like sheet metal of steel sheet and weld. It reduced the man hour by one fourth and realized cost reduction.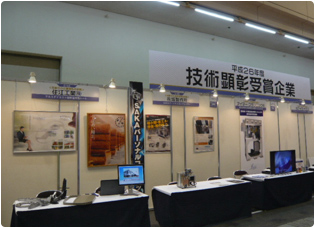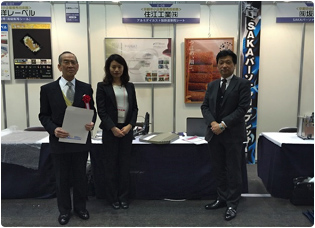 Awarded company for technology reward: Suminoe exhibition booth
The scenery of explaining to the customers at Suminoe Co.,Ltd booth
● Sep.18, 2014
Announcement of receiving appreciation certificate "SL Ginga"
We inform the news of receiving an appreciation certificate for the contribution of creating new tourism products by producing the interior goods exactly how the designer imagined for SL Ginga, a steam-hauled excursion train which starting its operation on Kamaishi Line since April 2014.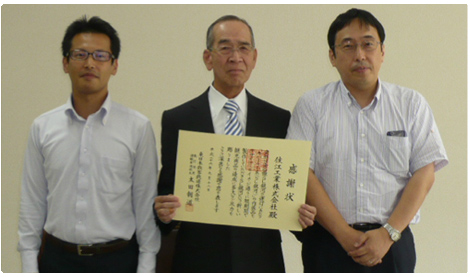 The two big themes were restoring JNR Class C58 239 together with rebuilt former KiHa 141 series. The concept was "for the imaginary journey through experiencing culture, nature, and scenery of Tohoku" and it was such a big project to reenact Taisho Romance when Kenji Miyazawa lived but we managed to complete the production and complete the delivery.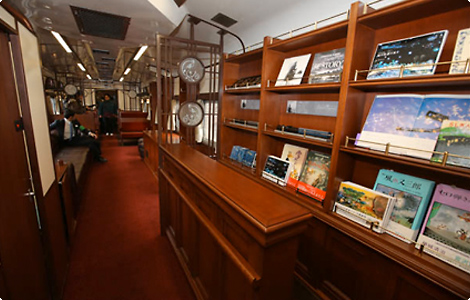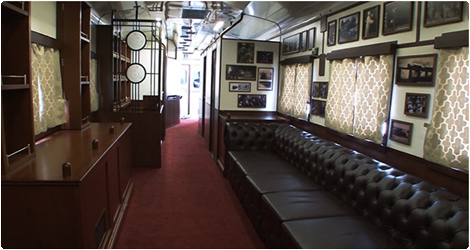 We produced the cross seats, sofa, wooden furniture of the train. As a unique feature, we even produced vibration isolation table for planetarium.
Thanks again for coming from all the way.
● Sep.12, 2014
Our company has got certified to "KYOTO heartful industry"
Kyoto has been starting to authorize the companies promoting to hire people with disability as Kyoto disable's employment promoting industries (Kyoto heartful industry) since 2011.
● Apr.16, 2014
"Tohoku Emotion" the news of receiving appreciation certificate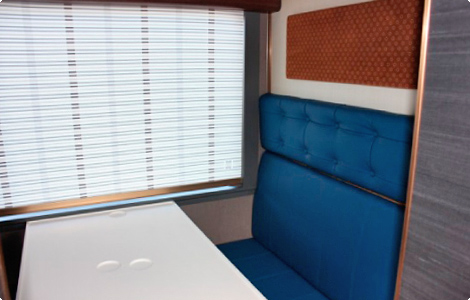 Tohoku Emotion is a train designed by JR East Co., Ltd aiming the restoration assistance and vitalizing local community. You can enjoy the luxurious cuisine featuring local ingredients while watching the beautiful scenery from the train window.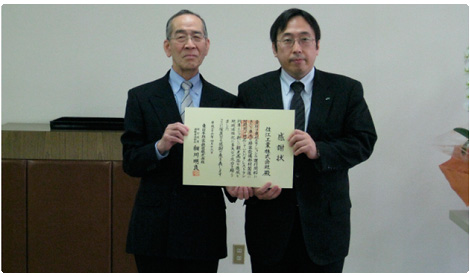 This time, we held the awarding ceremony to present the event of receiving the appreciation certificate by JR East Co., Ltd for contributing to this activity.
Thank you for visiting us from all the way.
● Jan.31, 2014
Delivered interior materials to JR East Co., Ltd "SL Ginga"
We delivered our produced interior goods to the former KiHa 141 series of SL Ginga which will start its service from April 12th, 2014. We produced the cross seats, partition, all of the sofa, and all of the wooden furniture.
The concept of inside the car is "for the imaginary journey through the culture, nature, and scenery of Tohoku" and it produce the world of Taisho to Showa era that Kenzi Miyazawa lived.
We also made the sofa which is pitched in a traditional way to reenact Taisho Roman.
evived JNR class C58 and KiHa 141 series. The black luster of C58 and the blue gradation which comes from the night sky of the train KiHa 141 look pretty nice.
"SL Ginga" also has a room where you can enjoy planetarium and we made the table with vibration isolating system for installing planetarium apparatus.
The furniture of each area is decorated with many items on display that you can enjoy the "culture, nature, and scenery" of Tohoku and it creates the world of Kenzi Miyazawa (right side of the picture)
● Nov.13, 2013
Wednesday November 6th, 2013~ Friday November 8th, 2013
"The third railway technology exhibition" our produced railway seat had been exhibited
The third railway technology exhibition has been held at Makuhari Messe 7.8 hall and international conference hall from Wednesday November 6th to 8th.
Our company received an offer from Scottish Development International for this exhibition and we exhibited the railway seats of which seat cover is replaced with the product of Scottish Replin Co., Ltd.
As for the exhibited product, we created two passengers reclining seat by using two different plain -woven seat cover and the long seat covered with genuine leather.
The third railway technology exhibition Makuhari Messe Hall 7.8 (Left)/ each booth at the venue (right)
Scottish Development International (Replin Co.,Ltd) booth 1 (left)/ Scottish Development International (Replin Co.,Ltd) booth 2 (right)
Exhibited two passengers reclining seat using two different plain-woven seat cover
Long seat replaced with genuine leather (left) / Scottish Developing International negotiation scene (right)
● Oct.31, 2013
Kiyoken Co., Ltd. Yokohama factory, delivered displayed railway seat for the factory tour
Thursday October 31st 2013, "petit museum shop" is opened in Yokohama factory of Kiyoken Co., Ltd.
The concept was train which has a strong connection with Kiyoken Co., Ltd. And you can learn the manufacturing process, the history and anything that you are interested about Kiyoken Co., Ltd. in the video by using our produced seats and operating the 47 model touch panels display which looks like the train window.
Kiyoken Co., Ltd Yokohama factory
Location:

post code 224-0044




675-1 Kawamukocho Tsuzuki-ku Yokohama-shi Kanagawa

Phone
number:

045-472-5890


(open all year around 8:00 am to 18:00)
※from January 1st to 3rd, 8:00 am to 17:00
Remarks:

[by car]




Take the Yokohama Motoishikawa Line from the third Keihin road Kohoku IC to Shink-Yokohama




[by train]


From JR Yokohama City Municipal Subway "Shin-Yokohama Station" JR Kitaguchi Station Bus Terminal 5
Line 300 for Nakamachidai Station/ Get off at Kohoku Interchange

● Oct.21, 2013
JR Kyushu Co., Ltd. "Nanatsu boshi in Kyushu" Installed sweet room bed
2013/10/15
We installed the mattress developed in a joint effort with Dream Bed Co., Ltd. for "Nanatsu boshi in kushu" sweet room.
"Nanatsu boshi in Kyushu" is a "first Japanese cruise train" where to enjoy the time you spend in the train and the train was designed by the leading person of industrial design Mr Mitooka Eiji.
The service will be starting from October 15th, the proposal of the new journey is to visit Kushu filled with Japanese attraction such as nature, food, hot springs, history and culture while relaxing in the luxurious sweet room.
The illustration image of "Nanatsu boshi in Kyushu"
The illustration image of sweet room
The mattress developed in a joint effort with Dream Bed Co., Ltd
The illustration image of Nanatsu Boshi train
The scenery of the sweet room (left)/ working crew (right)
Complete view of the sweet room
● Oct.21, 2013
JR Kyushu "Nanatsu boshi in Kyushu" exclusive bus seat remodeling
We remodeled and delivered the exclusive seat for "Nanatsu boshi in Kyushu"
This bus is converted from previous reserved bus (Isuzu GALA) and the designed is done by Eiji Mitooka same as it the train.
For the remodeled seat, we used the former framework and used wooden material which we succeeded to contribute to recycle.
The painting of the bus is same as the train and the wooden materials are used for the ceiling, floor, armrests, and shelves. The number of the seat is 32 and we expanded the seat pitch. The bus also has a rest room and the sink on the back of the bus.
The service will start on a same day as the train which is from October 15th, and the bus will pick up the passengers at the nearest station and is used for sightseeing.
The image illustration of Nanatsu boshi exclusive bus
Completed exclusive bus
"Nanatsu boshi" exclusive bus completed illustration image
Completed bus seat
● Oct.19, 2013
JR East restaurant train "Tohoku Emotion" interior goods delivery
Isn't it great to have a full course lunch while enjoying beautiful scenery of Tohoku in such sophisticated place? The seats we made this time, we used genuine leather cover for all of the seats.
The unique white brick styled appearance. It is literally restaurant itself. Each specialist contributed to each work such as interior, exterior, art inside, BGM and so on. It is such an honor that we could also contribute to this work.
The whole view of general admission room (left) and lady's room. Both became very neat.
We renewed the general seats to "Udon province seats". You can find the picture of udon with chopsticks somewhere on the seat print.
Lady's seats are renewed to olive seats. We used cute olive prints on for the seats. You can find the leaf prints turned into heart shapes.
Scenery of the training
We introduced razor cutting process machine and start operating vehicle interior panel process from April 2012.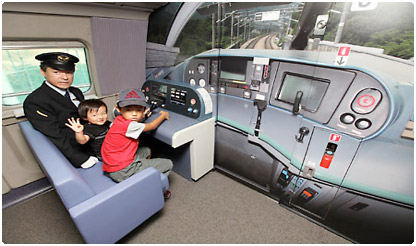 In Dec. 2008, Janghang line between Cheonan to Shinchang became double-tracked and electrified. At the same time, KORAIL invested 32 units of " 200000 limited express" car in 2009 and it started to operate in the name of "Nooriro" between Seoul to Shinchang from June 1st. We delivered all seats of this train.
*Railway carriages by HITACHI,Ltd.