● May.31, 2007
Published in Kyoto Shimbun( a local newspaper of Kyoto )
From Yamashiro
ONLY ONE
(Suminoe Industries Co., Ltd. (Osumi, Kyotanabe city) 
Are you producing the seat of railroad vehicle throughout Japan?
 In Kansai area, we deliver our seat of railroad vehicle to JR (Rapid Express) such as Thunder Bird and newly-modeled express train of Hankyu, Kintetsu and Keihan. Probably, you have already seated once on your trip. Normally, we cover the metal frame and cushion materials over the outer material but we also handle a wooden seat which was covered by Japanese Style Material.
This seat was delivered in Kyushu-Shinkansen(train) ''Tsubame''.
We also handle variety of materials such as real leather.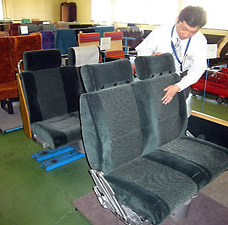 Are you developing the seat for various vehicle ?
 Originally, we were producing woodwork furniture. Then we made an advance to the railroad field. After the War, we concentrated on vehicle. As our main force of automobile seat, our product is used for a microbus ''Nissan Civilian'' and we also deliver the seat to Okinawa monorail, Niigata city LTR (next generation tram) and a passenger boat.
How does a seat of railroad vehicle evolve in the near future ?
 In addition to an energy-saving measure and light weight measure for improvement of braking efficiency, we are in demand of reducing the industrial waste while we are doing the re-covering of a seat. We developed polyester materials cotton which could be recycled instead of traditional urethane materials and we delivered those brandnew seats to Tokyo Metro and Kintetsu train. We also do the re-covering by those new materials and carefully correspond to other various requirements from our client.
We make our best efforts for environmental measure.
● Mar.15, 2007
Aiming for more pleasant, comfortable and tireless seating, we have introduced the distribution measurement system of seat surface pressure.
 As a specialized manufacture of the development and production of seats, we carefully studied ergonomics and finally introduced a distribution measurement system of seat surface pressure, aiming to improve shape and seating posture and to make comfortable seats. It can be measured and displayed as 2D or 3D of seat pressure distributions by real-time processing and the thickness of the sensor is extremely fine such as 0.1mm that would never cause a margin of error of pressure.
Therefore, we can determine and manage the design and the evaluation of seat quantitatively.
We are aiming for the development of "comfortable seating", by making research from every aspect and method. In particular, as one of majorfactors to determine comfortable seating, we are making our best efforts in order to measure accurately the body pressure distribution.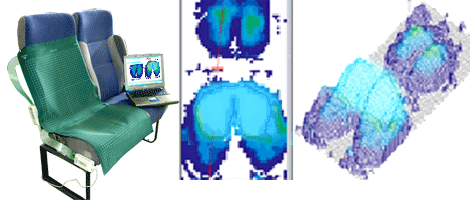 By using our unique measurement system, we measure and study a variety of body pressure distribution of each seat under various conditions in order to aim for comfortable seating which relieve the fatigue from many hours seating. Our collecting and accumulating various data will be reflected in our further product development. There is no limit for us to aim for further more comfortable seat for the next generations.
 We promise to meet your expectation.


● Mar.15, 2007
We have introduced the mold-paper Input System in order to correspond to a trial product, sampling process and repeated orders with variety of requirements and prompt action.
 As part of the pursuing comfortable seating, we introduced the Mold-Paper-Input System in consideration of the importance of comfortable seating on making the mold paper and quick reference in case of repeated orders from customers. By introducing this system, we can do scanning input of large quantities of mold paper and correct the input picture and convert it to CAD data.
These processes are reflected to the development of our products.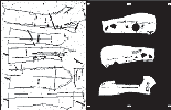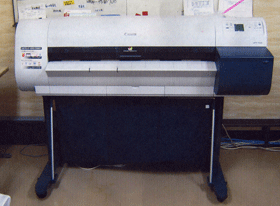 The recorded data are printed to the mold paper by a large color printer. The mold paper realizes the best comfortable seating pattern which come out from distribution measurement system of seat pressure distribution. As a result, we can make mold paper quickly responding to customers' requirements.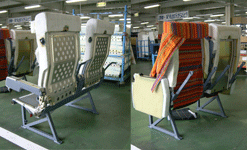 We can immediately respond to any order regardless of quantity and variety.

● Feb.08, 2007
"THE DREAM OSAKA" "THE PREMIUM DREAM" which runs between Tokyo and Osaka by West JR Bus co.

The industry's first innovative and newly-made seat
 We delivered the industry's first innovative and newly-made seat equipped with tilt function and reclining system.(seat back is linked with seat cushion, tilting + reclining)
 This innovative seat was developed in pursuit of " pleasant and comfortable sleep" in a night bus. We have done by ourselves from designing to production by studying every concerned aspect in order to improve the convenience and comfortable feeling during many hours journey.
Design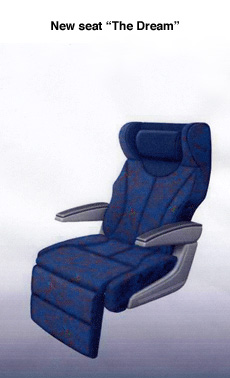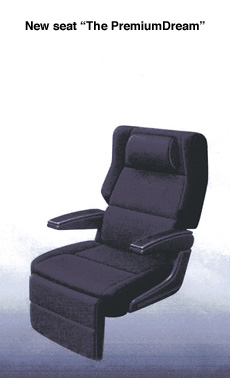 In the process of production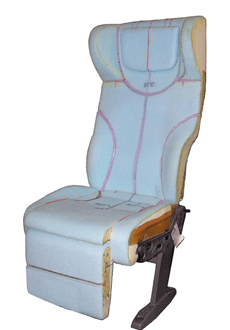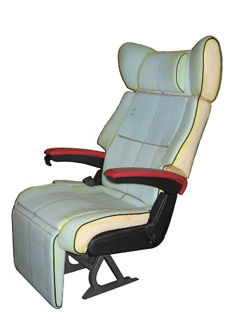 finish and delivery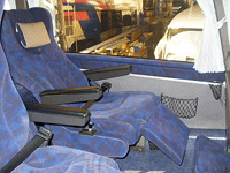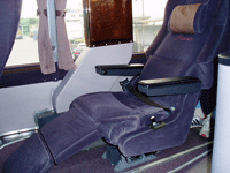 We equipped the tilt function and reclining system with the seat additionally in the upper deck of "THE PREMIUM DREAM".
This seat is enlarged by 75mm of seat width and by 205mm of knee space compared with standard seats. We promise to offer the first class comfortable mobile space in "DREAM OSAKA"
DREAM OSAKA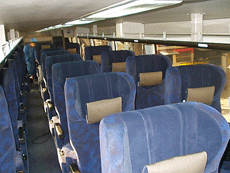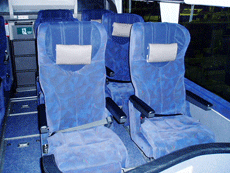 PREMIUM DREAM